Health literacy is being able to:
Find good health information
Understand it
Make smart decisions about your health
Why is health literacy important?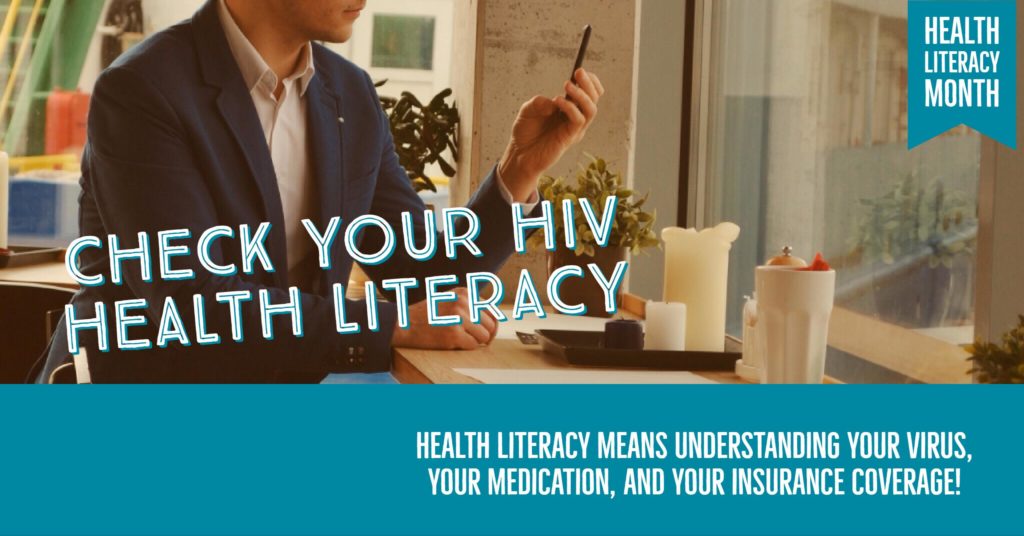 Only 12 percent of adults in the United States are health literate. People with low health literacy are more likely to misuse health care services, have worse physical and mental health, and have a shorter life span. For people living with HIV, low health literacy causes people to have poor knowledge of their disease and treatment, and have low rates of adherence to medication. This makes people sicker!
Virus
What is a viral load?
Do you want it to go up or down?
What is a CD4 count?
Do you want it to go up or down?
Medication
What medication are you taking?
Do you take your medication as the bottle says?
Do you ever miss your medication?
Insurance Coverage
What insurance do you have?
Do you need to turn in information, complete an activity, or re-enroll to maintain coverage?
What can you do to improve your health literacy?
Ask questions at the doctor's office
Ask for written instructions before you leave your appointments, and/or
Bring a friend; two pairs of ears are better than one
Work with your field benefits specialist to understand your insurance
Check your mail; you may have important insurance information that you need to respond to
Assemble the "Dream Team"
Remember that you are not alone on your health journey. It is important to talk to the people you know and ask them about what resources they have to help you. Make sure your "dream team" includes the following:
HIV provider
Nurse
Case manager
Field Benefits Specialist (may be your case manager)
Oral health care provider
Support person in your personal life (friend or family)
SOURCE: May 11, 2017. Adapted from "20 Ways to Live to be 100 When You Have HIV," Michelle Garcia and Diane Anderson-Minshall, HIV Plus Magazine, January/February 2015.