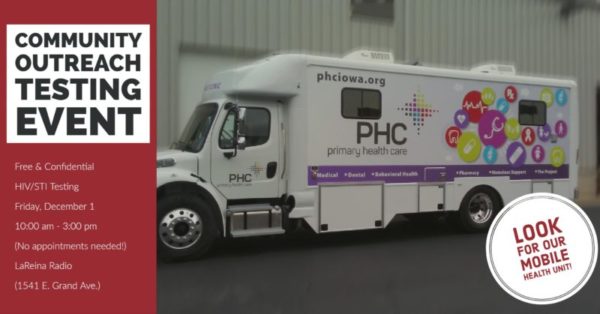 COMMUNITY OUTREACH TESTING EVENT
On Friday, December 1
, we're deploying our brand new mobile health unit to provide free and confidential HIV/STI testing out in the community. From
10:00 am – 3:00 pm
, the mobile unit will be at
1541 E. Grand Avenue
in Des Moines.
We are excited to partner with La Reina Radio with this event to reach Des Moines' (and surrounding areas) rapidly growing Spanish-speaking population. Come see us and enjoy a hot cocoa, learn about prevention, programs and services available through The Project.
Everyone is welcome. No appointment needed! 
Also, our testing clinic (1200 University Avenue, #120, Des Moines, IA 50314) will be open as well. Stop by and get tested at the location nearest you!
Use/follow the hashtag #WAD2017 to join the conversation.
Exámenes de ITS/VIH: Gratis y confidenciales a nuestra comunidad
El día Viernes Diciembre 1, inauguraremos nuestra nueva unidad de salud móvil para proveer exámenes de ITS/VIH gratis y confidenciales a nuestra comunidad. De 10am-3pm, la unidad móvil estará localizada en 1541 E. Grand Ave. en Des Moines.
Estamos orgullosos de asociarnos en este evento con la estación de radio La Reina para alcanzar a la comunidad de habla hispana de Des Moines (y las comunidades a su alrededores). Visitenos y disfrute de un chocolate caliente!
Aprenda acerca de prevención, programas, y servicios ofrecidos por medio de The Project.
Todo mundo es bienvenido. No es necesario hacer cita!
Así también, nuestra clínica de pruebas (1200 University Ave. #120, Des Moines, IA 50314) también estará abierta al público. Deténgase y tome su prueba en la localidad más cercana a usted!
Utilice/siga el hashtag #WAD2017 para participar en la conversación.
World AIDS Day
The theme for World AIDS Day 2017: Increasing Impact Through Transparency, Accountability, and Partnerships. This theme reflects the United States government's longstanding leadership in addressing HIV/AIDS both at home and abroad and how we are increasing our impact to move epidemics from crisis toward control. It also highlights the historic opportunity we have to accelerate progress toward ending the HIV/AIDS epidemic as a public health threat in the United States and around the world. Finally, it emphasizes the critical role of transparency, accountability, and partnerships in reaching our collective goals.